Interest on Deposits
NEW PSC 2013 Reference Book
Regulation Revisions
Pipeline Safety
Electronic Filing
NEW: Informational Videos
Meet the Commissioners
Consumer Alert
Small Utilities Assistance Division
Request PSC Records
Call 811
Interest on Deposits
Pursuant to KRS 278.460, the Kentucky Public Service Commission has determined that the interest rate on utility deposits for the calendar year 2014, effective January 1, 2014, shall be:
0.12%
For additional information, click here
Special information for water districts and associations, click here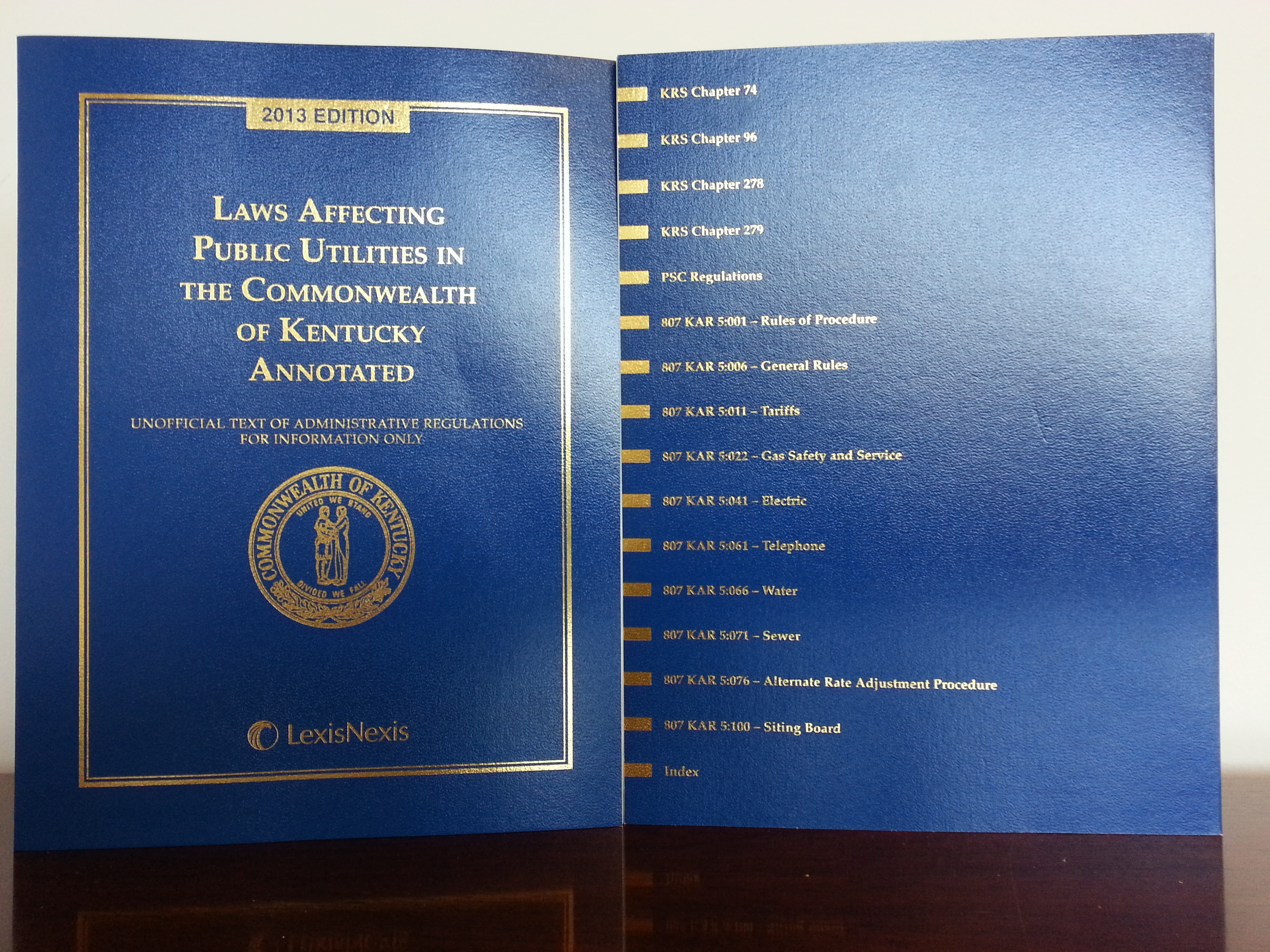 The Kentucky Public Service Commission has available a limited number of copies of the recently printed 2013 edition of the Laws Affecting Public Utilities in the Commonwealth of Kentucky. If you would like to purchase a copy, please call 502-782-2578.
This version contains:
KRS Chapter 74 - Water Districts
KRS Chapter 279 – Rural Cooperative Corporations
KRS Chapter 96 – Utilities in Cities
PSC Regulations
KRS Chapter 278 – Public Service Commission
Index
Regulation Revisions
The Public Service Commission continues to review its administrative regulations and develop updates to ensure that they are current with existing statutes and reflect present Commission policy and practice.
---
The latest updates and information can be found at the following link: http://psc.ky.gov/home/pscregulations
PSC Pipeline Safety Information

For information about the Kentucky Public Service Commission's role in pipeline safety, click here
The Kentucky Public Service Commission Instructional Video Series





Register/Create your e-filer account (click here)




How to File in the Tariff Filing System:

• Prepare your filing – Part 1 (click here)

• Prepare your filing – Part 2 (click here)

• Upload your filing (click here)
NEW: Informational Videos
Introduction to Ratemaking (click here)
Certification of New Generating Capacity by Electric Utilities (click here)
Attorney General Conway Warns Kentucky Consumers about Utility Bill Payment Scam